Steps for Login
1). To log into REPORTER with your Brickyard Account, open REPORTER via the URL go.ncsu.edu/reporter
2). On the landing page, locate and click the 'Login' option that matches your Account Type (see below)
3). You should then be brought to a page title "Shibboleth Login Service" where you will enter your username (email) and password
4). After entering your credentials, click the button to "LOG IN →"
5). You should see the page reload, acknowledging your details have been entered, followed by a blank white page
6). If you have not used REPORTER recently, the white page may take a minute to load. Once loaded, you should see your REPORTER dashboard where you will be able to access online content for relevant registrations.
If the page is not loading as expected, please try clearing your browser cache (help available at https://go.ncsu.edu/clear-cache), or using an incognito window.
Not sure what Account Type to use?
---
 

Brickyard Account / Guest User Login Help
Brickyard Accounts are created for or by an individual using any email address that does not end in "@ncsu.edu" as their ID.
With a Brickyard account, an individual can log into REPORTER at go.ncsu.edu/reporter, and use the application to register, access activity links or information, and view their account history in REPORTER.
If you have an account but have forgotten your password, click here for additional assistance.
To create a New Brickyard Account,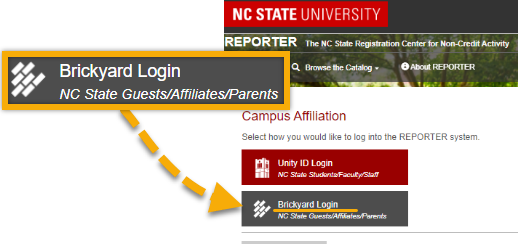 begin by locating the login area at go.ncsu.edu/REPORTER, then select the option to Create New Account.
You will be direct to a page where you can create an account using your name and email. Additionally, a password needs to be created per the requirements indicated along the the right side of the page. As you meet each password requirement, you will see the red circle with an  X  change to green with a  ✓ .
Detailed instructions for this process, can also be seen here.
---
Internal User Help Anchor Tag
NC State Unity Account Login Help
If you are an active NC State employee or student, an account has already been set up for you in REPORTER and you can sign in using your Unity ID and password.
As an NC State user, you will login through Shibboleth using your Unity ID and Password. To do this, first select the red UNITY ID LOGIN button.
This will direct you to Shibboleth where you will enter your Unity ID and Password (if you have recently logged in using Shibboleth this may process automatically). 
If you have any issues with your Unity login, please refer to the NCSU Office of Information Technology website for assistance.
What if I am able to log in using Shibboleth but REPORTER says no account was found?
If you are a new employee or student, this may be the result of a system delay. For Employees, accounts are added to REPORTER based on hire date and that is entered into HR system; because of this new employees may need to wait a day before you appear active in the system. If you believe your account should be active but you are still not able to log in after 24 hours, please contact REPORTER support at reporter_support@ncsu.edu.
---
Need More Help? Contact Us.